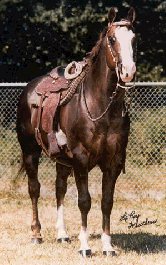 AQHA Champion "Bally Hobo" Story
Horse Name: Bally Hobo
Dicipline: Performance
1970 16.0 hands Sorrel Quarter Horse colt



On Christmas Day, 1969, Gail lost Lit' Bit, a favorite horse of hers. Lit' Bit's unusual wide blaze always made him stand out from other horses. The following spring, Gail and Mike often drove the road from Scio to Albany, Oregon. Someone had leased the big grass-seed field, where the road makes a corner, and had turned 50 broodmares out to pasture. They knew a church group owned the property, but who had leased it? Where had the mares come from? Who owned them? On May 1, 1970, one of the mares in the big field dropped a colt with a face marking similar to Lit' Bit. Mike and Gail stopped frequently, and each time the curious colt would come to meet them at the fence. Then, one day in fall, all the mares and foals were gone. The following spring, Gail decided to look for a stallion with some height to breed mares they owned that had been sired by Quincy Dan. The mares were certainly nice, but on the small side. Gail found an advertisement for a 16.1-hand stallion called Bally Beers, standing not far from them in Jefferson, Oregon. Gail made an appointment to look at the stallion. She liked him, but what did he produce? Gail asked the owner if he had any colts by Bally Beers that she could see. Yes, he had a coming yearling colt in the barn. A broodmare had kicked the colt, so he brought him to treat the injury. The man led out the colt with the unusual white blaze.




| | | |
| --- | --- | --- |
| Pedigree | | Top Deck |
| | Moon Deck | Moonlight night |
| Bally Beers | | Barred |
| | Its Tidy | Vandys Betty |
| | | Hobo |
| | Vagabond | Little Nell |
| Vaga Thrill | | Billy Clegg |
| | Sue Jet | Brown Sue |